"Geoff's music is so integral to the film that it truly is a character supporting everything happening on screen."
– Eric Welch, Director, Beautifully Broken
BIO
To every project, Geoff brings over two decades of professional experience as a composer, producer and arranger of original music for nationally- and internationally-broadcast television programs, feature films, commercials, jingles, planetarium shows, station image promos, corporate/industrial works, songs and artists. He has composed and produced the music on everything from the feature film Beautifully Broken — released in theaters nationwide in 2018 — to NBC's Saturday Night Live, to the National Geographic Channel, to the controversial series The Record Keeper, to The Country Music Hall of Fame exhibits, to international film festival circuits and planetariums around the world. He is capable of making music with nothing more than pen and manuscript, or with the latest electronic virtual instruments, or both.  Every project has unique requirements and he delivers exactly the music each client needs — on time and on budget.  He is known for his command over virtually any musical style, delivering everything from the biggest dramatic orchestral sound to the most intimate ensemble.
Geoff earned his Bachelor of Music between Oberlin Conservatory's TIMARA program, and Belmont University's commercial music program.  He was featured in Keyboard Magazine's "Discoveries" column in 1996 and had his first choral piece accepted for publication when he was just 20. Upon graduating college, he was tapped to serve as pianist for Grand Ole Opry star, Lorrie Morgan, for her "Christmas In London" national tour. He has also served as pianist/ keyboardist for The Glenn Miller Orchestra, The Kadillacs, Restless Heart, and most recently, 2009 Rock and Roll Hall of Fame inductees, Little Anthony and The Imperials.  He has served as the president of the Nashville Composers Association for over a decade, and also serves on the board of Film-Com, one of the world's largest completion and distribution markets for film, TV and media.  Geoff was also honored as the 2015 recipient of the prestigious Curtain Call Award, awarded by Belmont University to alumni recognizing outstanding achievement in the field of music, and is a 2017 nominee for Best New Age/Ambient Music in the Hollywood In Music and Media Awards.
Scoring Sampler 2018
Beautifully Broken Opening - Geoff Koch
Star Thieves - Finale/End Credits - Geoff Koch
\"The Decision\" from Star Thieves - Geoff Koch
Star Wars: The Force and The Fury - Geoff Koch
\"Betrayal and Forgiveness\" from Beautifully Broken - Geoff Koch
\"The Painful Past\" from The Makeover - Geoff Koch
The Church of the Wild - Introduction - Geoff Koch
\"Cross Dinner\" from The Makeover - Geoff Koch
Update Required
To play the media you will need to either update your browser to a recent version or update your
Flash plugin
.
Geoff has a gift for capturing the tone and spirit of a scene.  Whether uplifting and inspiring or mysterious and foreboding, he crafts music and sounds that bring the heart of a scene to life.  He is so versatile and creative; he uses every instrument and sound in his arsenal to develop a sonic mood that moves viewers consciously and subconsciously without distracting from the scene.  HIs music is so integral to the film that it truly is a character supporting everything happening on screen.
– Eric Welch, Director, Beautifully Broken
Geoff is an accomplished musician whose artistic abilities have brought an exciting, new dimension to our films. His orchestrations and arrangements are exquisitely composed and always compliment the tone of our work.
– Jane Pittman, Film Writer & Producer, Pittsure Company
As a Supervising Producer, I have worked with Geoff on numerous shows for the cable network series, 'Final Report' (NatGeo), 'American Justice,' (A&E), 'Mobsters,' (BIO),  and 'Biography' (BIO).  His scores are consistently excellent and creative – absolutely first-rate!  And Geoff is a pleasure to work with, always professional and never misses a deadline.  I would gladly work with Geoff on any project in the future and can only sing his praises!
– Mary Boylan, Supervising Producer, Towers Productions
Geoff is a superior musical talent and an utmost professional who I enjoyed working with on projects for networks including A&E, Animal Planet and National Geographic. Geoff's work always brings a uniqueness to my projects that accentuates the action and emotion in all the right places.
– Erin Lutterbach Murphy, TV Producer, Casting & Development Consultant
Geoff is an extremely versatile and insightful composer.  He can transparently shift between musical styles: classical to ethnic to techno to cinematic, creating rich music that resonates within the style and impacts the audience.  His intricate arrangements and orchestrations support memorable melodies that bring the emotional core of a story to life.  Geoff rocks!
– Michael Daut, Director of Show Production, Evans & Sutherland Digital Theater
Geoff is an insightful and creative musician whose compositions add depth and meaning to the projects he scores.  He's a real pleasure to collaborate with.
–  Waydell Walker, Production/General Manager, Towers Productions
Geoff is very good at taking and implementing suggestions from producers. In areas of the show where I have no preconceived ideas for the music, he always comes through with very poignant and appropriate music.
– Joshua Alper, Television Producer/Director
Star Wars: The Force and The Fury features excellent performances from Aris Judson and Deborah Smith, great cinematography by Federico Verardi, and a cinematic score by Geoff Koch, who managed to create music that's original, but fits right into the universe created by John Williams.
– Paul Strauss, Mighty Mega Media
Awards & Recognitions
Hollywood Music in Media Awards, "Hearts Afire", New Age/Ambient Category nomination, 2017
ZMR Music Awards, Best Vocal Album, Seay's album "In The Garden" (arrangements), 2016
Belmont University – Curtain Call Award, 2015.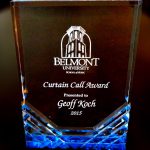 Open World Toronto Film Festival, Best Feature Film for "The Record Keeper", 2015
Alexandria Film Festival, Audience Award for "Coming Back to the Hoop", 2014
The Geekie Awards, "Best One Shot Award" for "The Record Keeper," 2013
The Telly Awards – Non-Broadcast Sound Award for "Lamps of Atlantis," 2012
NBC "Snap.com" national ad, NAF ADDY Award Winner, 2000
Keyboard Magazine "Discoveries" profile, 1996
Booking/Representation
Stacy Swain Artist Management
Contact Stacy via email: stacy.swainam@gmail.com
phone: 810-986-9571